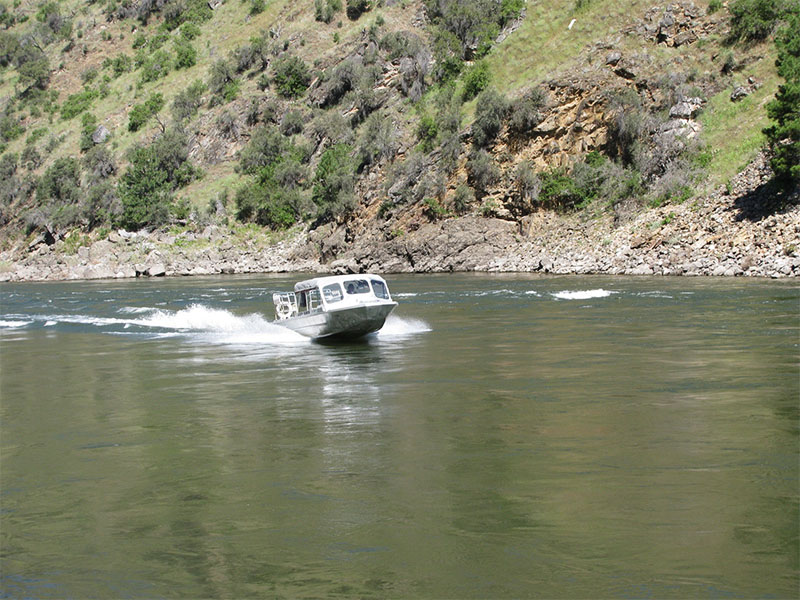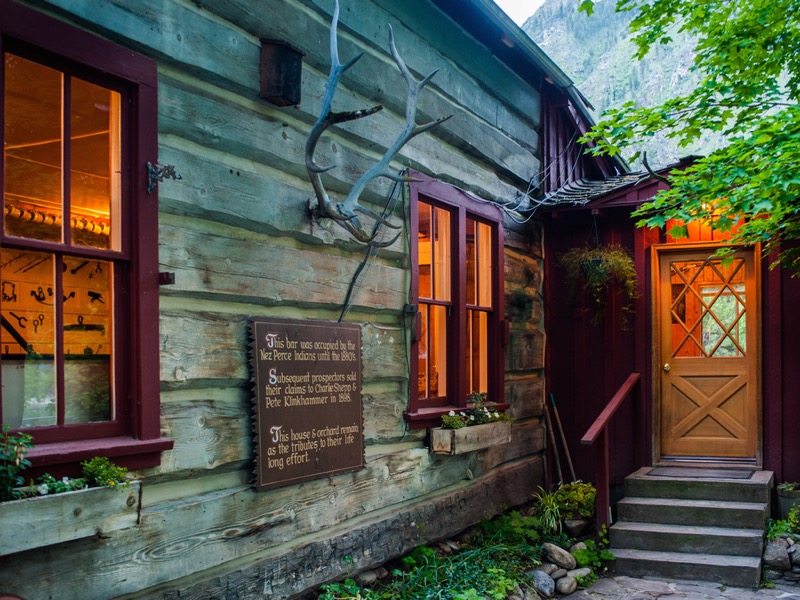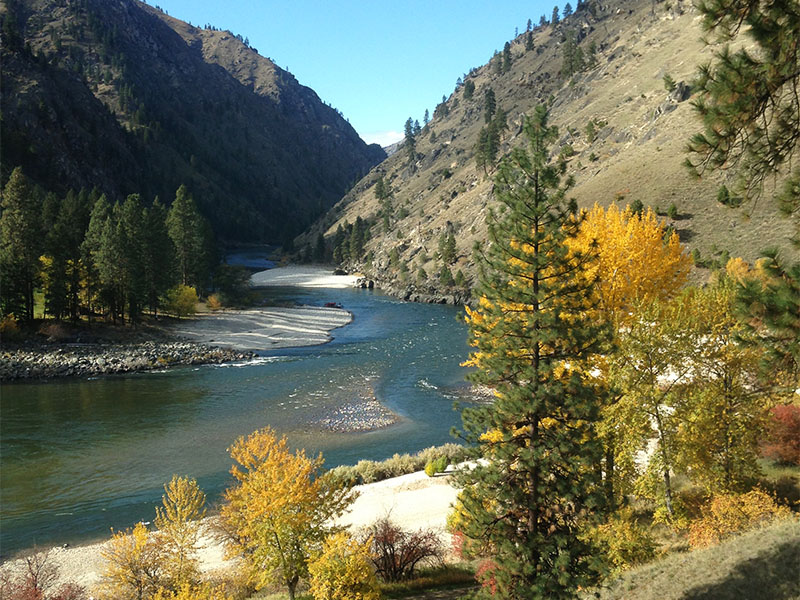 An unforgettable wilderness adventure vacation.
With over fifty years in the outfitting business, Shepp Ranch has a long history of providing quality Idaho guest ranch vacations. We take pride in our excellent food and great accommodations. Our success is best measured by the fact that many of our clients are repeat guests.
Spring Wilderness Experience
April and May
Spring is a spectacular time of year to visit Shepp Ranch. Snow dominates the high country, while there are budding flowers and green grass at the Ranch. Days are typically mild and inviting, while nights are cool, making it pleasant to sit and relax by a warm fire in your cabin or in the main lodge. Pleasant temperatures make spring ideal for hiking the numerous trails that originate at the Ranch. This is also a great time for viewing and photographing wildlife at its best. Elk, deer, and bighorn sheep winter along the slopes of the Salmon River Canyon, and spring is the best time to see these animals before they migrate to the high country for summer.
Summer Ranch Vacation
Mid-June to Labor Day
Summer at Shepp Ranch is your opportunity to experience an authentic western vacation. Days can be as active or relaxed as you choose. Guests can begin with a morning horseback ride along the banks of Crooked Creek, followed by an afternoon of fly fishing. Other possibilities include a jetboat excursion along the Salmon River, swimming at one of our favorite beaches, hiking a trail into the high country, or just relaxing with a good book at water's edge. As evening approaches, you can enjoy our hot tub overlooking the river, or play a game of volleyball or horseshoes. At Shepp Ranch, you can tailor your activities to best suit your interests. If you are interested in combining a Main Salmon River rafting trip with your Shepp Ranch vacation, we would be happy to recommend several top quality rafting outfitters.
Weekend Trips
Consider visiting Shepp Ranch for a weekend if time does not allow for a longer trip. From Saturday 11:00am to Sunday 4:00pm, you can explore the natural beauty of the Salmon River. This trip includes a jetboat tour, as well as seasonal activities ongoing at the Ranch. It only takes one peaceful night on the Salmon River to improve your outlook on life!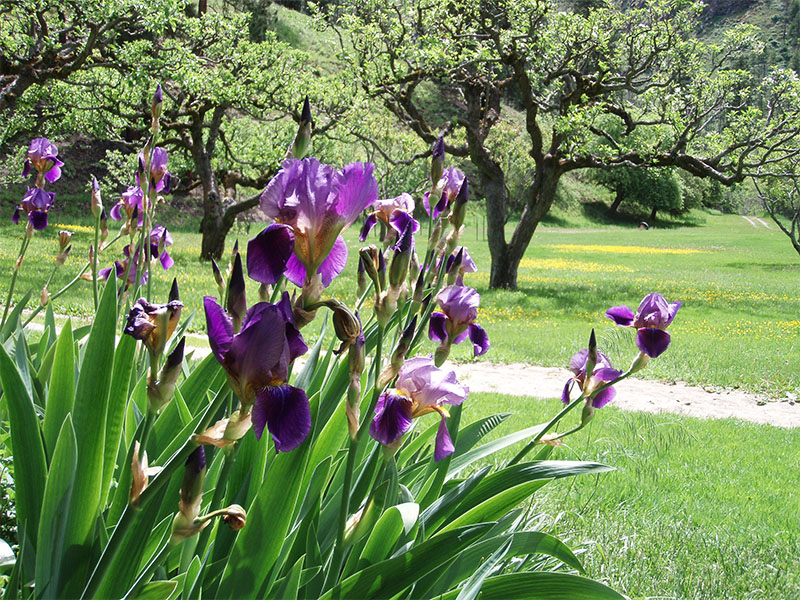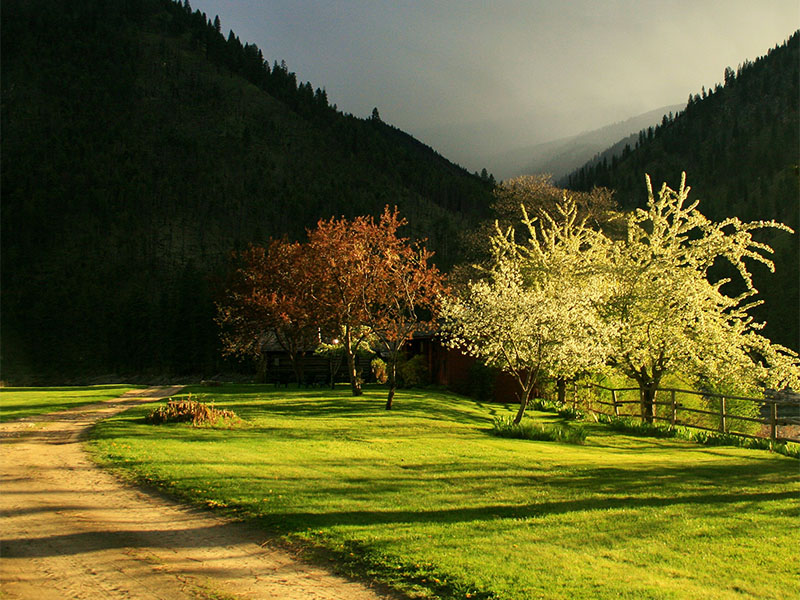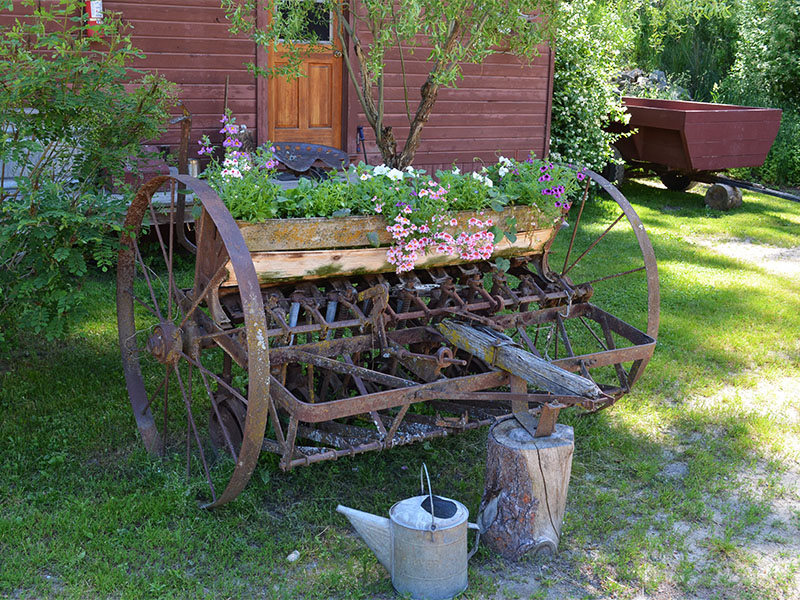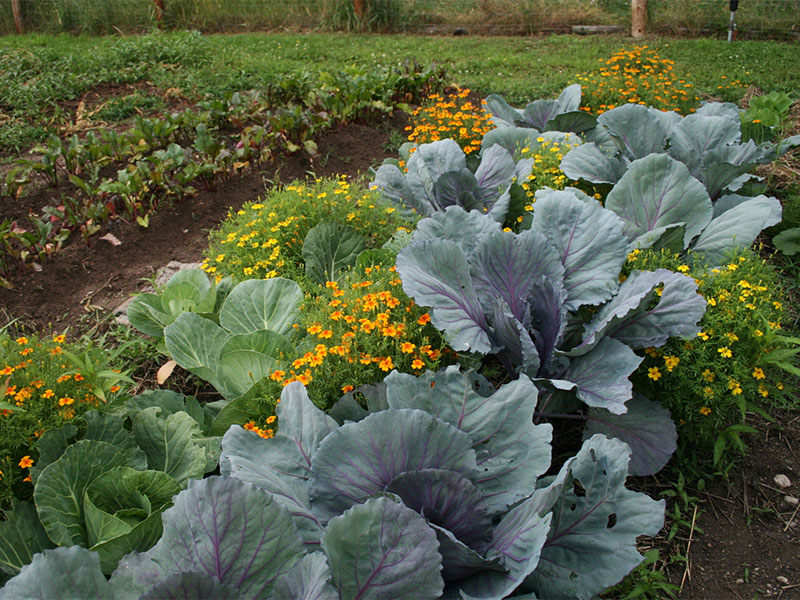 Dining
Often a highlight of our guests stay, meals are served family style three times daily. Prime meats, ranch grown fruits and vegetables from our garden, homemade jams, and breads and desserts from scratch are sure to please. We are experienced in satisfying special needs and requests so just let us know when you make your reservations and we will be happy to accommodate your preferences and any food allergies. Please note, however, that while we make every effort to avoid cross contamination for those with allergies or sensitivities, our kitchen is not completely gluten, dairy, or nut free.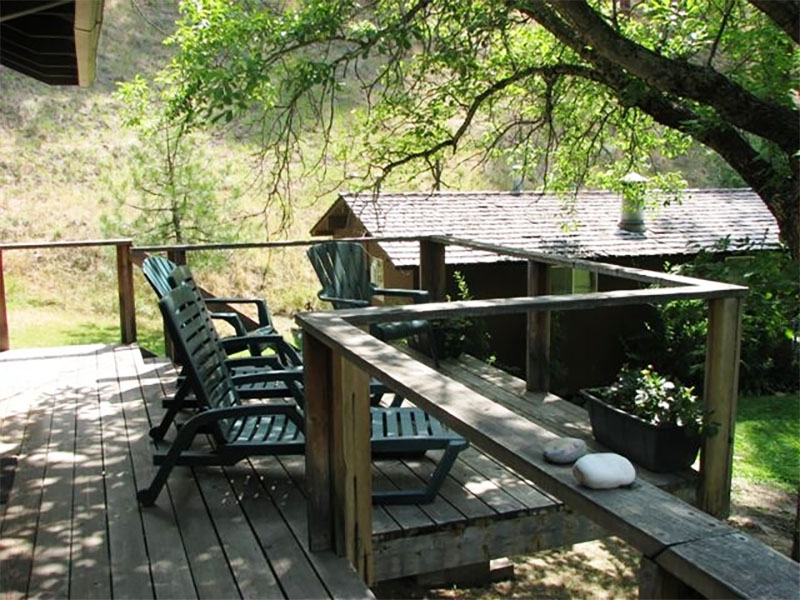 Amenities
Life at Shepp Ranch is simple and comfortable. You can be as active or lazy as you choose. The hot tub overlooking the river is a great place to soak and watch wildlife during the day or gaze at the stars at night. During the summer, the river is warm enough for swimming and playing Frisbee or badminton in its sandy shallows. Coffee machine set ups are available for your room and a cooler of soft drinks can be placed right outside your door. What you won't find are TVs, phones or internet.
If you have been feeling like you and your loved ones are a little too "plugged in," this is a place to renew family ties with good conversation, nature walks, and evenings around a campfire. Everyone can go their own way during the day and then regroup at mealtimes to relive their adventures. We have an eclectic library in the lodge with everything from the latest bestseller to 1920's National Geographic magazines. Lounge chairs are scattered around the ranch to provide the best views in either sun or shade. Board games and decks of cards are available at the lodge and there is almost always a jigsaw puzzle in progress. Shepp is the perfect place to unwind and unplug.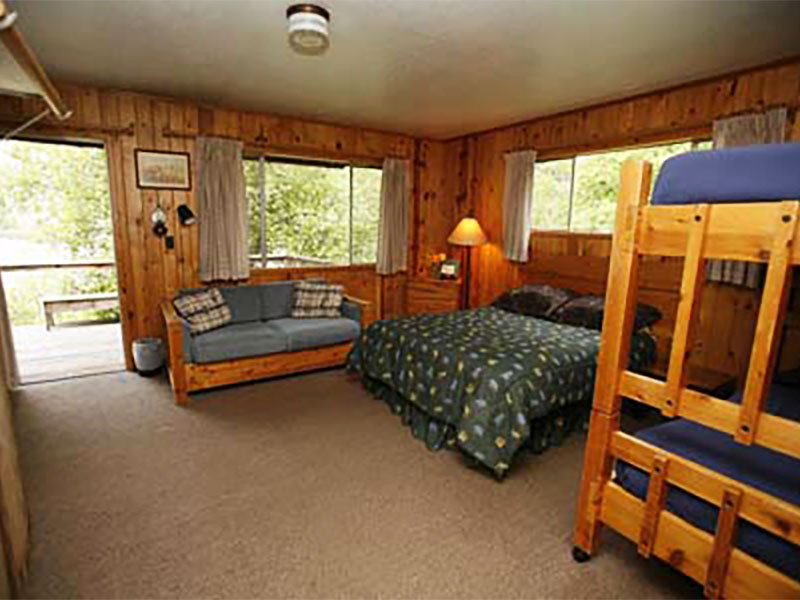 Accommodations
Shepp Ranch offers accommodations in 6 rustic and comfortable cabins overlooking the Salmon River and Crooked Creek. Each cabin includes a private bath, a wood burning stove or fireplace, and a comfortable couch for curling up to read. Shepp Ranch was listed in Mirabella magazine as the "Best Place in the World to Sleep" due to the lulling sound of the river and creek nearby.
Each cabin can accommodate 3 to 5 people depending on the make up of the group. Our accommodations give parents privacy while having the kids nearby during the night. Two of the cabins have refrigerators (coolers are provided for the rest) and coffee setups are available by request. All of the cabins open onto the grassy lawn and our 100 year old orchard.
The housekeeper will come in on a daily basis to freshen your room and replace any necessities. Rooms have queen or double beds, with bunkbeds for the kids!
What to Bring
We provide everything except personal items and alcoholic beverages. A limited variety of soft drinks are available at the lodge. We recommend the following list as a guideline:
Pants or jeans
T-shirts and long-sleeved protective sun shirts
Swimming suit and shorts (for swimming and hot weather)
Jacket and sweatshirt – even during the summer a light jacket will help keep you comfortable in the mornings and evenings
Rain gear
Hat – broad-brimmed hat with chin strap is recommended
Sneakers or light hikers
Water/river shoes
Boots for horseback riding
Sunglasses
Sunscreen, chap stick, aloe, bug spray
Flashlight (our generator does not run during the night)
Personal toiletries
Camera
Charge cords
Fishing gear and license
Beer, wine, liquor
Cash for gratuity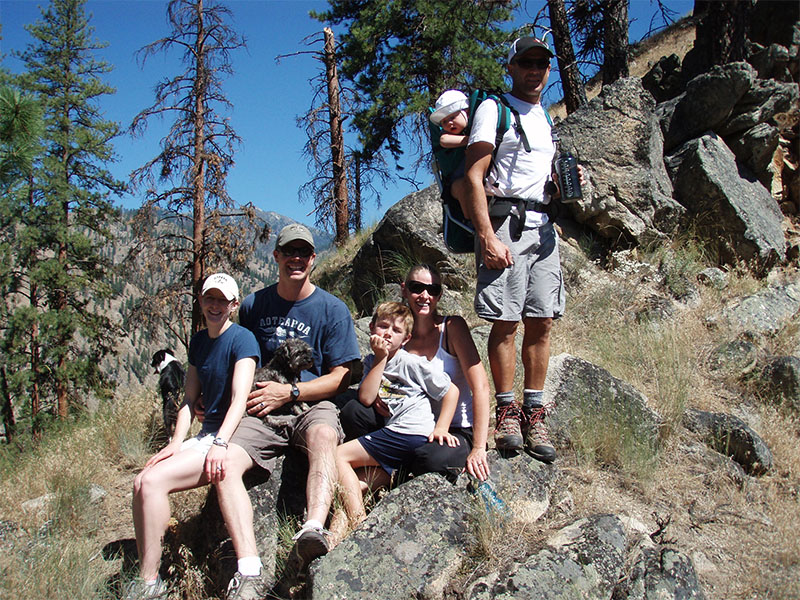 Hiking
Hiking in this country is a wonderful experience. The trails range from flat to steep and every step offers something to behold. In the spring, the temperatures are mild and the wildflowers are amazing! With the ranch at an elevation of 2100′ and the peaks at 8000′, you can trek through a series of ecosystems in a single day. The nearest road is 12 miles away, so it is easy to hike as far as you want and never see another person. We have daypacks, snacks, and water bottles ready for you and will head you in the right direction (we are also happy to provide you with a guide). Because the terrain is steep, we have found trekking poles or walking sticks to be especially handy.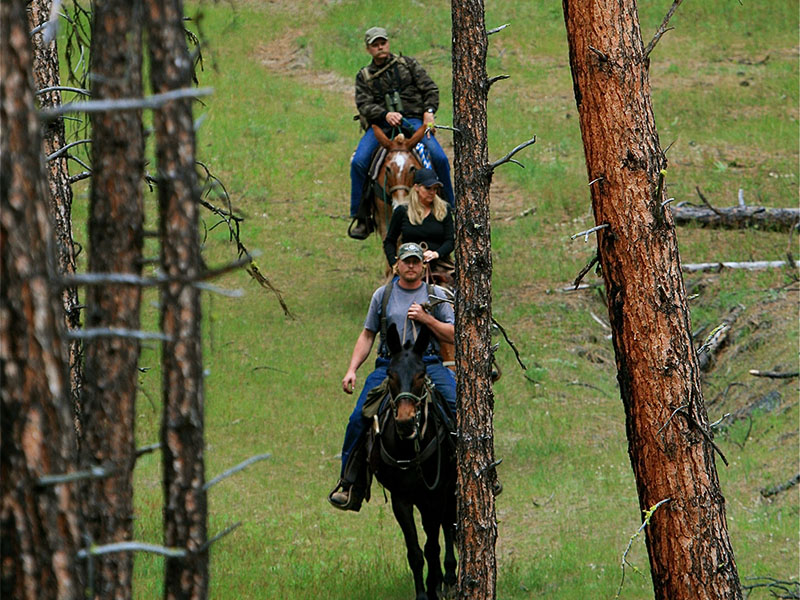 Horseback Riding
Horseback riding in the Salmon River country offers an opportunity to see the country at a leisurely pace and to access areas that are challenging on foot. Our mules and horses are picked to suit your level of expertise and comfort. We offer short, hand-led rides for children in order to provide greater reassurance and safety. All of our rides are guided and are at a walking pace. Trails lead out from the Ranch in all directions. You can choose a short ride to a beach where you can sit and watch the river or a longer ride to a historic gold mine. In addition, there are fishing/riding combination trips up the creek and trips to scenic overlooks where you can see for miles in every direction. We will provide the sack lunch!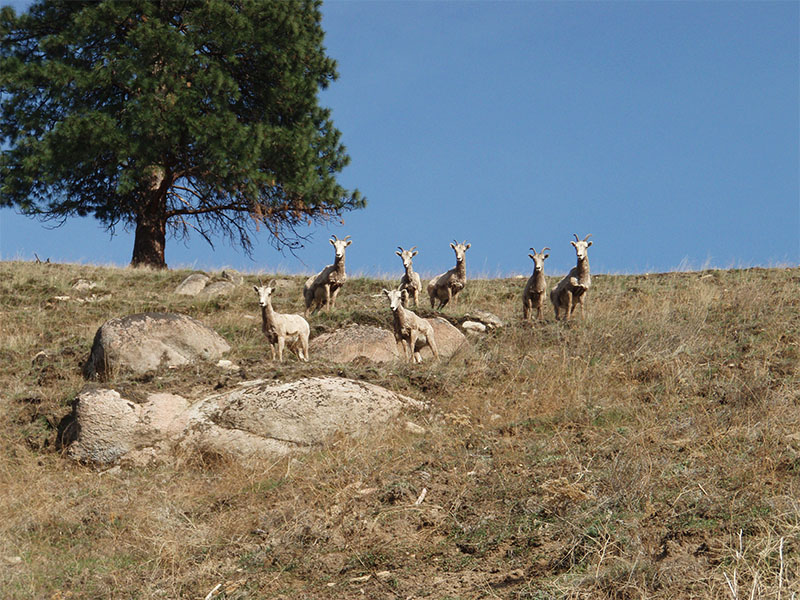 Wildlife Viewing & Photography
Spring in Idaho's Main Salmon River Canyon offers a unique opportunity to view and photograph wildlife and wildflowers. Depending on when your trip takes place, you may catch a grouse doing its mating dance, a fawn hiding in the tall grass, or a Rocky Mountain Bighorn lamb take its first peek over a rock ledge. Black bear, deer, elk, and Bighorn sheep are all prevalent in the canyon. While hiking provides the best chance for getting close, it is also not uncommon to view them while astride a mule or while jet-boating along the river en route to historic goldmines and homesteads. Acres of wildflowers will astound you! Trails start at an elevation of 2100' and climb to 8000', so you can experience a variety of blooms in a single trip. The canyon walls and pristine river offer a multitude of options for dramatic photography, sketching, or painting.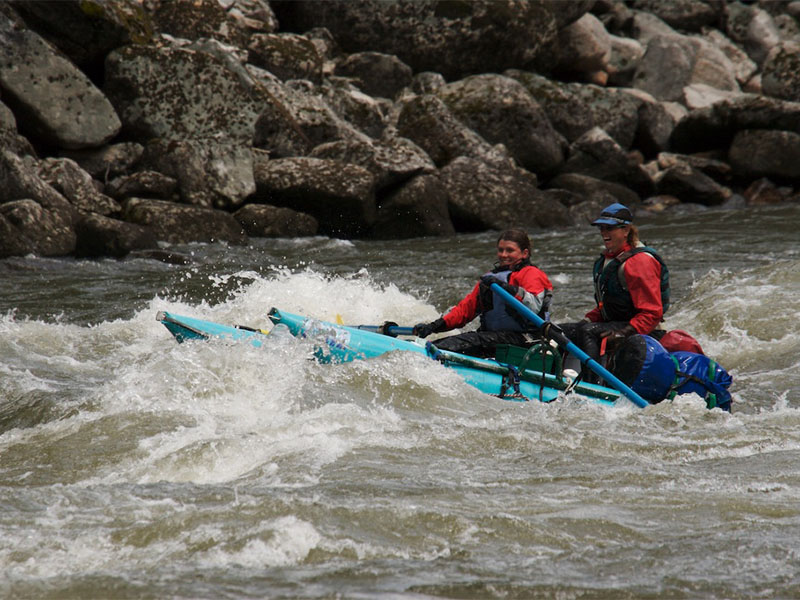 Rafting
Guests interested in combining their ranch stay with a whitewater rafting trip on Idaho's Main Salmon River have a variety of options. Private permit holders will enjoy being able to derig on our beach and leave the canyon showered, rested, and refreshed for the trip home after a night in our cozy cabins. Several commercial rafting companies offer a night at Shepp Ranch as part of their regular itinerary. We will work with any of the rafting companies to coordinate the logistics of staying at Shepp Ranch at the end of your trip.
Whether you are interested in camping or staying at a different lodge each night, a Main Salmon River trip is a great way to see the whole canyon. The Main Salmon is a very family friendly river with lots of sandy beaches for camping and fun rapids during the day. There are many historic homesteads and old mines, in addition to pictographs from even earlier settlers, along the river.
If you are a lucky winner of a private permit through the Salmon Challis National Forest Main Salmon River permit lottery, we are happy to offer you the hospitality of our lodge and cabins during your trip. Shepp Ranch generally fits in on the 4th or 5th night of your itinerary. If you choose to finish your trip at Shepp Ranch, there are three options for getting home. You can charter a flight out of the Ranch (airstrip use restricted to overnight guests of the ranch) to Salmon, McCall or Boise; we can provide jetboat transportation for you and your gear to the Vinegar Creek boat landing; or you can jet back up to Corn Creek, a service provided by other outfitters. Otherwise, you can finish your float down to the boat ramp at Carrey Creek 18 miles below the Ranch.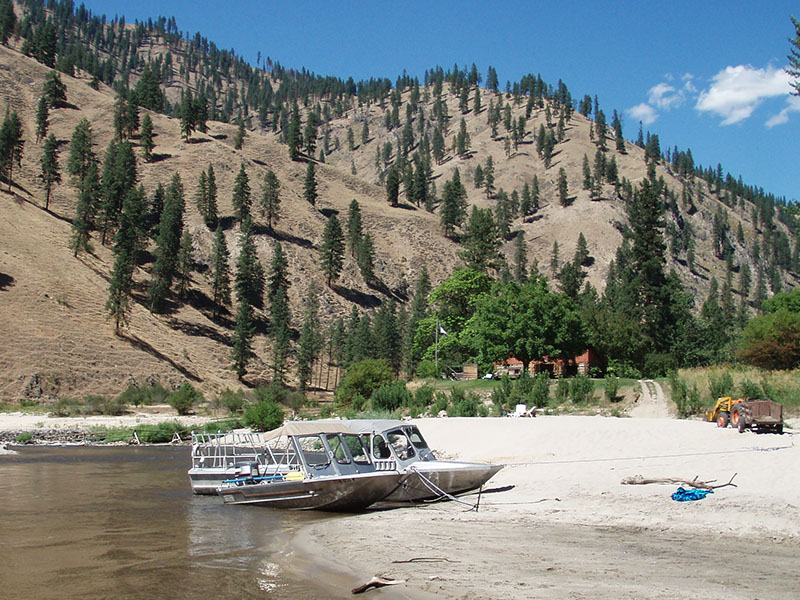 Jetboating
The most common way of arriving at Shepp Ranch is by jetboat. Jetboats travel by pulling water into a grate in the bottom of the boat and pumping it through an impeller and out the back of the boat. This allows our 8′ wide, 30′ long boat to carry loads up to 2 tons while traveling through water that is only inches deep in places. It is a truly exciting 30 minute ride to the ranch from the boat landing at "Roads End" 26 miles east of Riggins, Idaho. With a superior safety record and skilled drivers, you can concentrate on spotting a bighorn sheep or a circling osprey on your way upstream. Each day offers a new jetboating experience as you travel to abandoned mines, secluded fishing streams, wonderful swimming beaches, or historic homesteads. Jetboating is a great way to catch a glimpse of wildlife, especially in the spring, when the deer, elk, bighorn sheep, and black bears all frequent the river to enjoy the first green grass of the year.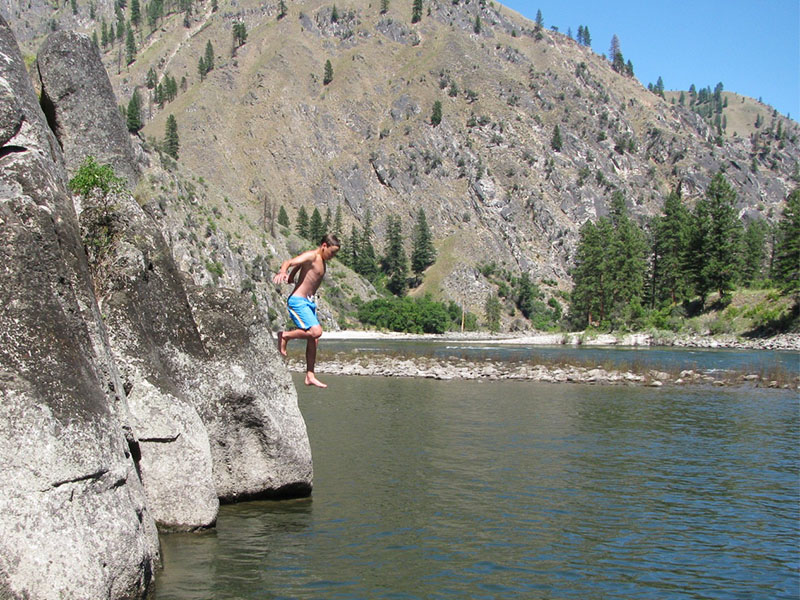 And more . . .
Archery
Croquet
Horseshoes
Volleyball
Fishing – trout fishing in both the creek and river during the summer; equipment and lessons available
Rock, driftwood or bone hunting; quartz, garnet and even some gold dust!
Shooting – target .22 or clay pigeon shotgun (additional charge for ammo)
Swimming – right in front of the Ranch or on various beaches along the river
Library at the lodge – help yourself to anything on the shelf. Several books on local characters and history take you back in time.
Relaxing – sun or shade, by the water or on a rocky overlook, the choices are unlimited!
Shepp Ranch comes highly recommended by generations of families. Even before Shepp Ranch began as a guest ranch, the Author Hal Evarts brought his young family for the summer while he wrote. They spent the days riding, hiking, swimming, fishing, and playing with the farm animals. His daughter, Author Ginger Wadsworth, later shared her love for the river ecosystem in her children's book River Discoveries. Pete Klinkhammer's nieces and nephews and their children visit when they can, bringing pictures and memories of "Uncle Pete." Some of our current guests are 4th generation visitors!
Available activities include archery, croquet, horseshoes, volleyball, badminton, rock and driftwood collecting, paper or clay target shooting, swimming, and family game time in the lodge. There are numerous hiking and walking trails around the Ranch at all skill levels, so even the youngest guest can enjoy a nature hike. Children and families can also participate in gathering fresh fruits and vegetables from our large garden, or in collecting eggs from the chicken coop.
When evening comes and you head to the bonfire for s'mores, stargazing, and recounting the day's adventures, you will be happy to see the smiles on your children's faces after a day unplugged from technology.
We welcome children and offer a discounted rate for children ages 6-12. There is plenty for children to see and do at Shepp Ranch. Older children can enjoy lessons in archery, target shooting, fly casting, horseback riding, and historic river lore are reminiscent of camp life. Without the distraction of TV and electronics, children will find themselves spending the day exploring nature's playground. Watching the stars come out while enjoying a bonfire on the beach and making s'mores is a fine way to end the day. The staff at Shepp Ranch is happy to share activities with children but Shepp Ranch does not provide childcare.