LOCATION
Shepp Ranch is situated in central Idaho, approximately 45 miles east of Riggins, Idaho, on the confluence of Crooked Creek and the Main Salmon River. The closest town is Riggins, Idaho and Boise, Idaho is the closest metropolitan area.

GETTING TO THE RANCH
Shepp Ranch, a remote backcountry ranch, can be reached by three different means of transportation. The first method involves a picturesque hour-long drive from Riggins, Idaho to Vinegar Creek Boat Ramp, where passengers can enjoy breathtaking views of the surrounding wildlife. At Vinegar Creek Boat Ramp, guests will board one of our jet boats for a thrilling 30-minute ride up the rapids to reach Shepp Ranch. Alternatively, visitors can choose to arrive via backcountry airplane, landing on Shepp Ranch's private 2,300′ airstrip. This can be arranged through Sawtooth Flying in McCall, Idaho or Arnold Aviation in Cascade, Idaho, who can fly you in from any desired location. The final option for arriving at the ranch is by helicopter.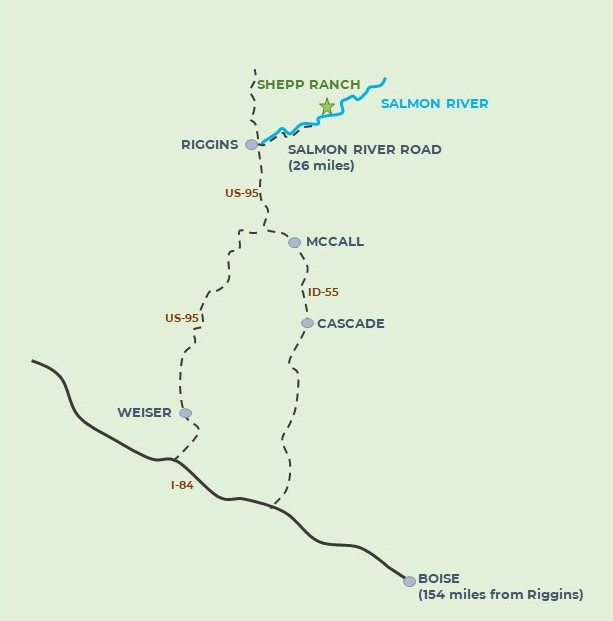 Shepp Ranch guest trips are fully booked for the 2023 season. There is limited availability for hunting drop camps for the 2023 and 2024 season. Although we spare no effort to provide a safe trip, an expedition of this kind is not without risk. Shepp Ranch Outfitting shall not assume responsibility for injury, loss of personal belongings or time and expense incurred. You will be asked to sign an assumption of risk form before beginning your activities at Shepp Ranch. If you would like to see a copy of this form before your arrival, we will provide you with one. Anyone traveling with a minor for whom they are not the responsible party will need to have a form signed by the designated guardian before arrival.