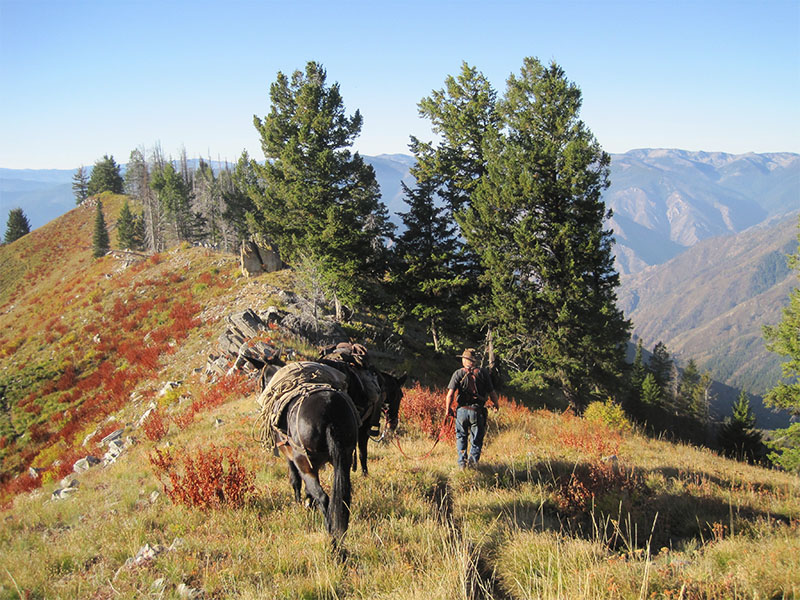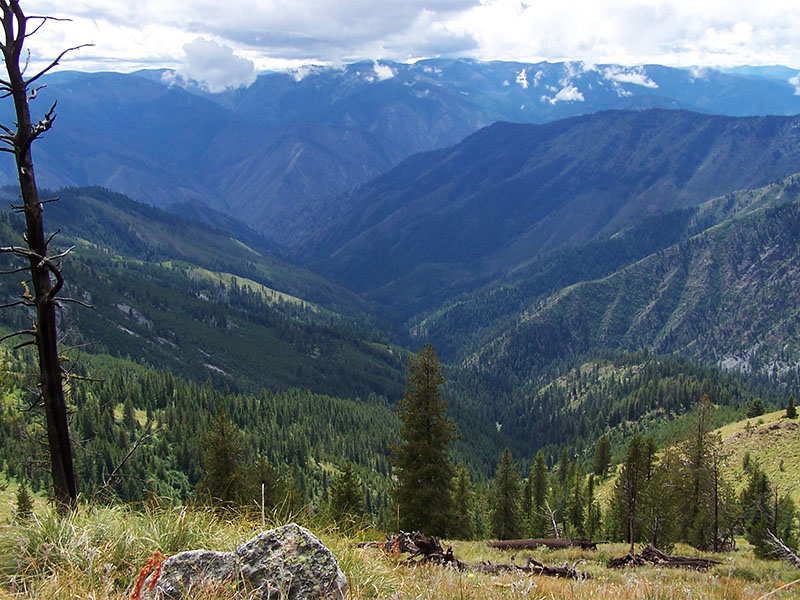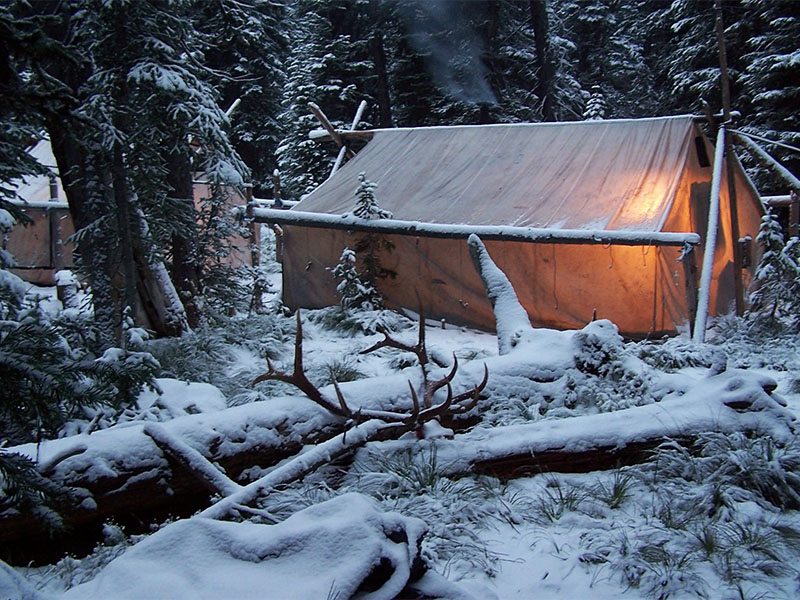 Shepp Ranch provides quality wilderness hunting.
Shepp Ranch is a bonded and insured Idaho outfitter.
We hunt in central Idaho's Gospel Hump Wilderness (see Buffalo Hump quadrangle) in Fish and Game unit 19. This country is steep and rugged, with nearly a dozen mountain peaks ranging from 6,700 to 8,300 feet, making it ideal habitat for big game. Our camps offer comfortable tents and sleeping conditions. Meals are prepared fresh, and offer more than usual camp fare, with fresh breads and desserts. One guide per two hunters ensures personalized attention, and the best possible chance for success.
Spring Bear Hunts
Our hunting season begins in April with Idaho spring bear hunts. Bears come out of hibernation and move towards the green grass along the river canyon. This is a great time to visit us for the first time or with your family. This a great wilderness adventure vacation.
Spring Bear hunting in Idaho's Main Salmon River Canyon is a great opportunity: the game is everywhere and you can hunt right from the lodge! In Gospel Hump Wilderness Unit 19, you can buy two bear tags. The bears in this area range in color from blond to black. We use a spot and stalk method of hunting and have had a success rate of nearly 100%.
We're situated in a very deep canyon and primarily hunt the side canyons accessed by jetboat. By hiking up one side of a particular canyon you have a good view of the opposite side. A lot of time is spent glassing and relatively short distances are covered. The terrain is steep, but the pace is slow. After a bear is spotted, we determine if a stalk is feasible and how best to implement it. The hunting is mostly on foot with occasional use of horses. We have had very good success and find this method of fair chase hunting very gratifying. An additional highlight of this hunt is seeing the large herds of elk, deer, and bighorn sheep each day along the river.
Bear hunts are conducted from the Ranch and make a great spring family trip. While you hunt, your family can spend the day enjoying all the amenities of the guest ranch and hear about your hunt when you join them in the hot tub at the end of the day. It is a spectacular time of year along the Salmon River to enjoy wildlife viewing, hiking, and all the beautiful spring blooms.
Idaho offers a "Nonresident Junior Mentored" license for hunters age 12-17 for just $7.25. This is a great youth hunt with lots of game sightings, high success rates, and comfortable accommodations!
Elk Hunts
Elk Hunting starts in September with out our rifle bugle season. Later hunts in October and November are best for deer and elk combination hunting as the game moves in for winter and the deer enter their rut.
We offer rifle hunting in September, in the midst of the bugle season. This is a rare opportunity and not to be missed. Later in the fall, we use ideally located camps to intercept game migrating to wintering areas. While we hunt mostly from horseback, a certain amount of walking is required. We suggest you be in good physical condition to ensure an enjoyable hunt and your best chance for success. In this area, a non-resident deer tag can also be used on a cougar or bear so if you hunt the late season deer/elk hunt you may also get a chance at a cat, while in the early season there is a chance for a bear.
Elk and deer Hunters begin their trip with a jetboat ride up the Salmon River, and proceed to camp the same day. Depending on which camp we have chosen for you, the horseback ride to camp is between three and seven hours. We use wall tents outfitted with cots and mattresses and heated by wood stove. This assures you will be comfortable, even if the weather turns cold, as it often does in the high country. We provide one guide per two hunters, guaranteeing personal attention, and the best chance to be successful in your hunt. Each camp also has a cook who prepares fantastic meals, with fresh baked breads and desserts. We are happy to accommodate dietary preferences or restrictions even in hunting camp. Hunts last a full six days, with the last night spent at the ranch where you can enjoy a hot shower and a soak in the hot tub while telling tales of the week's hunt. This gives you a chance to get cleaned up and enjoy our hospitality before jetboating out after breakfast on the last day.
Cougar Hunts
After elk season we offer cougar hunting in a wilderness setting. This is an incredible hunt with challenging chases in the side canyons of the Main Salmon River.
Our Wilderness Mountain Lion hunts take place in late November and early December from either the lodge or our backcountry camps, depending on conditions. This hunt is done primarily on foot with some horseback riding. Due to the steepness of the terrain, this is a hunt for the truly adventurous who are willing to put forth the effort and forego the use of four wheelers and snowmobiles. The challenges of this type of hunt mean we only harvest a small number of lions which maintains our population and assures low hunting pressure. The cats follow the elk and deer herds to the river for wintering, and since we hunt right after our elk season, our guides are familiar with any sightings or encounters. In this area, a non-resident deer tag can also be used on a cougar so if you hunt the late season deer/elk hunt, you may have a chance to hunt a cat as well.
Bighorn Sheep & Moose Hunts
Shiras Moose and Rocky Mountain Bighorn Sheep permit application season is in April and the hunts take place in the fall.
April is the time to apply for the coveted Rocky Mountain Bighorn Sheep Hunt # 5002 and Shiras Moose Hunt # 3078 controlled hunt drawings. We are happy to facilitate your application process. If you have already drawn, we would be happy to take you on your dream hunt.
We offer a variety of options on our sheep hunts. Our hunts are 10 days long. You can choose to do it all in a single 10 day stretch or split it between two hunts. How your hunt takes place will depend on the scouting that takes place prior to your arrival. We have three high country camps up to 7200' in elevation and the ranch is at 2100'. The rams are just starting to be in pre-rut phase during that time and can be elusive; the guide will make decisions daily on what to try next. You should be prepared to do lots of hiking in steep terrain and spend your nights in camp. There will be mules available to transport you around the high country, but often they can't go where the big rams are.
We hunt moose in the wilderness part of Unit 19. There are 8 tags available one of which can go to a non-resident. We offer a 7 day October hunt utilizing high camps that have wall tents with wood stoves. You will have a guide and cook. We use horses and/or mules to access the surrounding country side which includes several high lakes. At this time of year the bulls are in the rut and will be moving around quite a bit. The choice of camp will depend on the scouting reports of our guides. The success rate in this unit is generally very good.
Chukar Hunts
Our "Cast and Blast" combo is a chance to spend beautiful autumn days on the Salmon River, trying for an early steelhead and listening for the sound of a covey of chukar to pursue. Chukar season historically opens the 3rd Saturday of September. You are welcome to bring your own dog for hunting. This is a nice time for couples as the weather is generally very comfortable for lounging around the ranch or day hiking.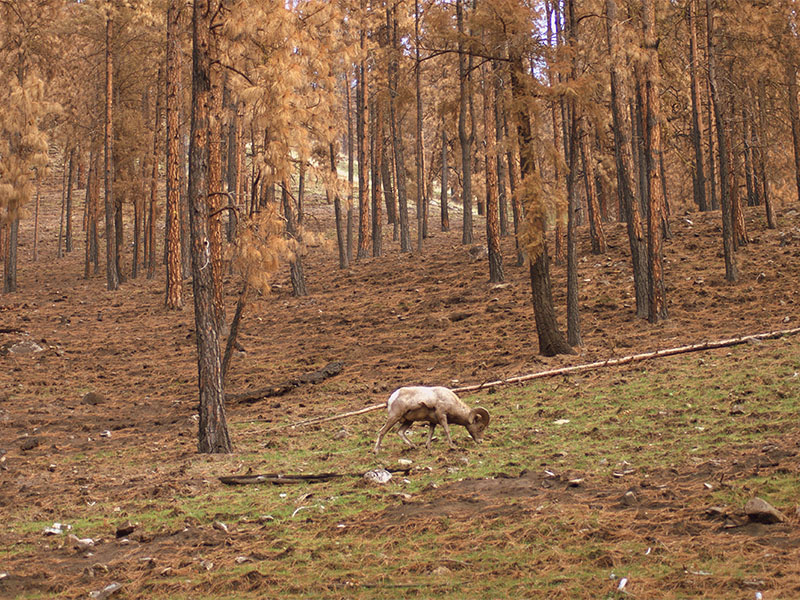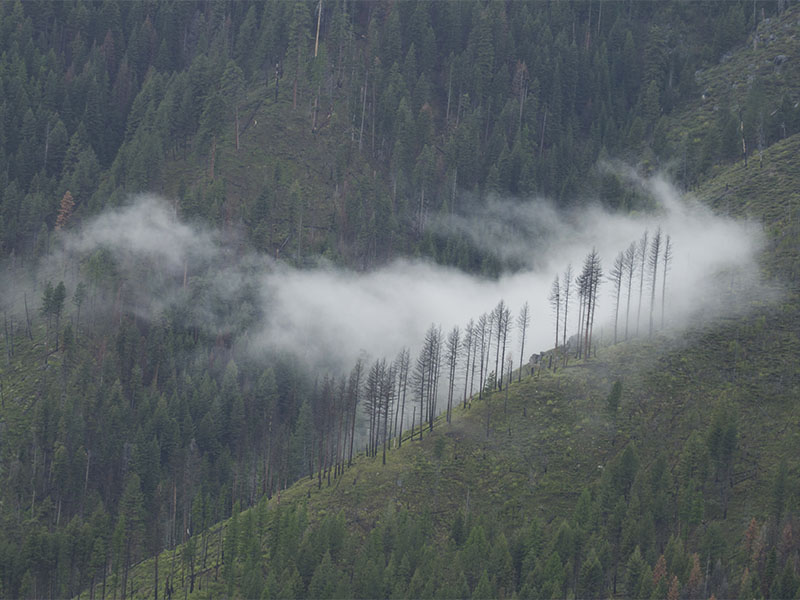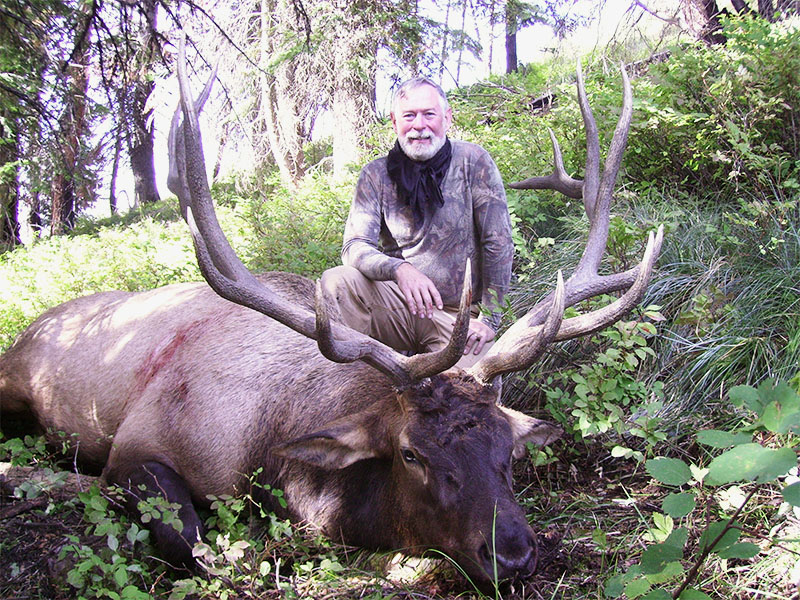 Reserve your spot for an amazing hunt.
These trips book up every year so be sure to contact us early.